Take our chronic UTI information sheet to your next GP appointment
Our chronic UTI guide for GPs evidences the problems with testing and gives advice on how best to help patients. We know it can be difficult to explain all this and describe your symptoms in a short doctor's appointment.
All the information is based on the latest scientific research. We worked with specialists and GPs to make sure we got it right.  Take a copy to your next appointment.
Chronic UTI information sheet for GPs (opens as PDF)
In 2008 it was estimated that nearly 45% of the world's population were affected by lower urinary tract symptoms and this is expected to rise.
Even in acute, uncomplicated urinary tract infections rates of recurrence are high.
Around 20-30% of patients don't get better with initial antibiotic treatment
Up to 70% experience another UTI within a year.
Up to 1.6 million women in Britain suffer from chronic lower urinary tract symptoms but National Institute for Health and Care Excellence (NICE) guidance does not exist for chronic UTI and there is no quality standard for recurrent UTI.  A significant number of men and children also suffer.
Negative dipstick tests and mid stream specimens of urines and the failure of short courses of antibiotics are for many persistent UTI sufferers the first step to a diagnosis of interstitial cystitis, painful bladder syndrome, urethral syndrome or overactive bladder.
But numerous studies have shown dipsticks and MSUs to be unreliable. Burgeoning evidence suggests chronic lower urinary tract infections are caused by untreated bacterial infections – not inflammation.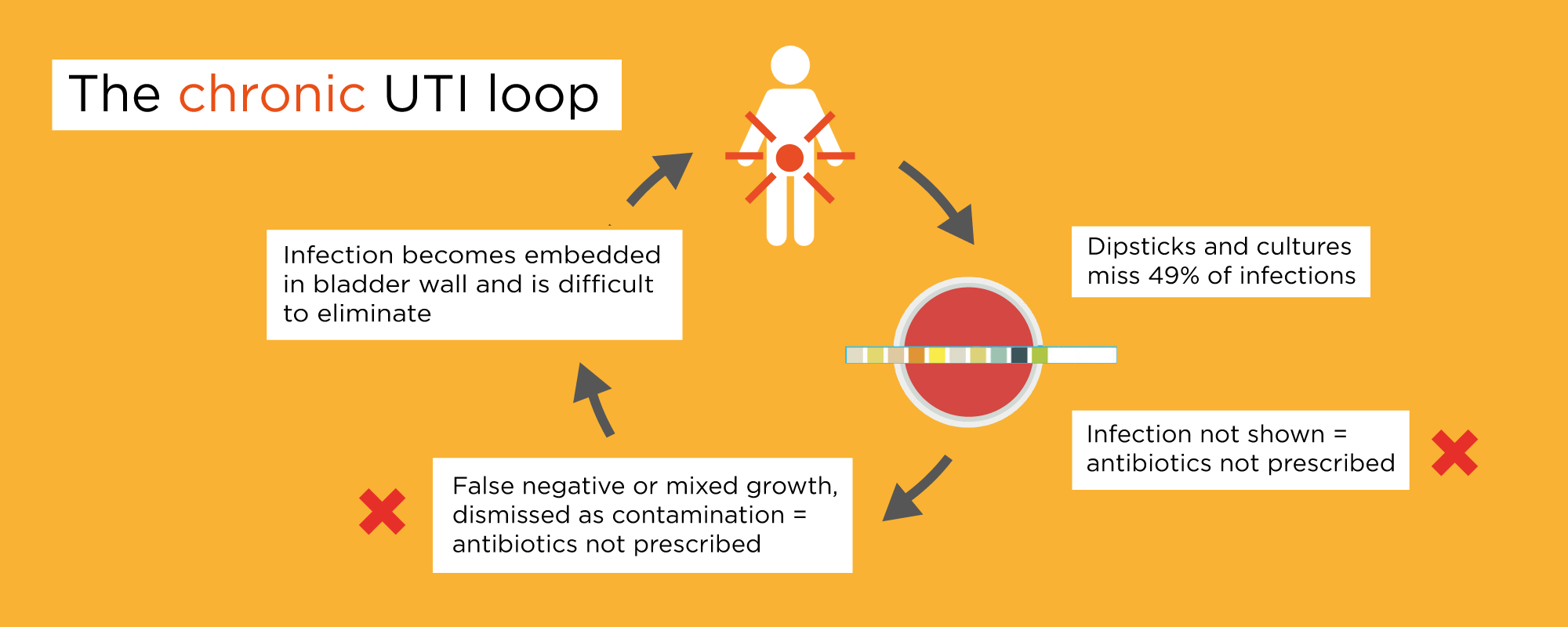 Early intervention is key to preventing chronic UTI
We are sharing this new resource far and wide. Please share our explainer with friends, family, neighbours, colleagues – anyone who has suffered with UTI.