Why CUTIC – the Chronic Urinary Tract Infection Campaign – is needed
Bladder problems wreck lives and can even kill. Chronic urinary tract infection remains a taboo subject and people suffer in silence.
Current tests and treatments are failing sufferers, while the belief that their symptoms are caused by unexplained inflammation and stress rather than a bacterial infection sees them dismissed as 'problem patients' who cannot be helped.
What needs to change
CUTIC believes that chronic UTI sufferers deserve better testing and treatment that works.
These goals shape our campaign work:
Raising awareness about chronic urinary tract infection
Challenging current tests which fail to diagnose about half of UTIs
Gaining recognition and proper treatment guidelines for chronic UTI
Challenging the diagnosis of interstitial cystitis, painful bladder syndrome and urethral syndrome
Making effective specialist treatment for chronic UTI available to all.
Raising awareness about chronic urinary tract infection
The majority of urinary tract infections get better within days – often with a three, five or seven-day course of antibiotics. The bacteria that cause these acute UTIs live in the urine in the bladder where they can be flushed out or destroyed by antibiotics and the body's own immune system.
But there is a dangerous misconception that UTIs, while unpleasant, are always short-lived and easily treatable. Taking short courses of antibiotics that fail to completely get rid of an infection is one route by which an acute UTI can develop into a long-term problem.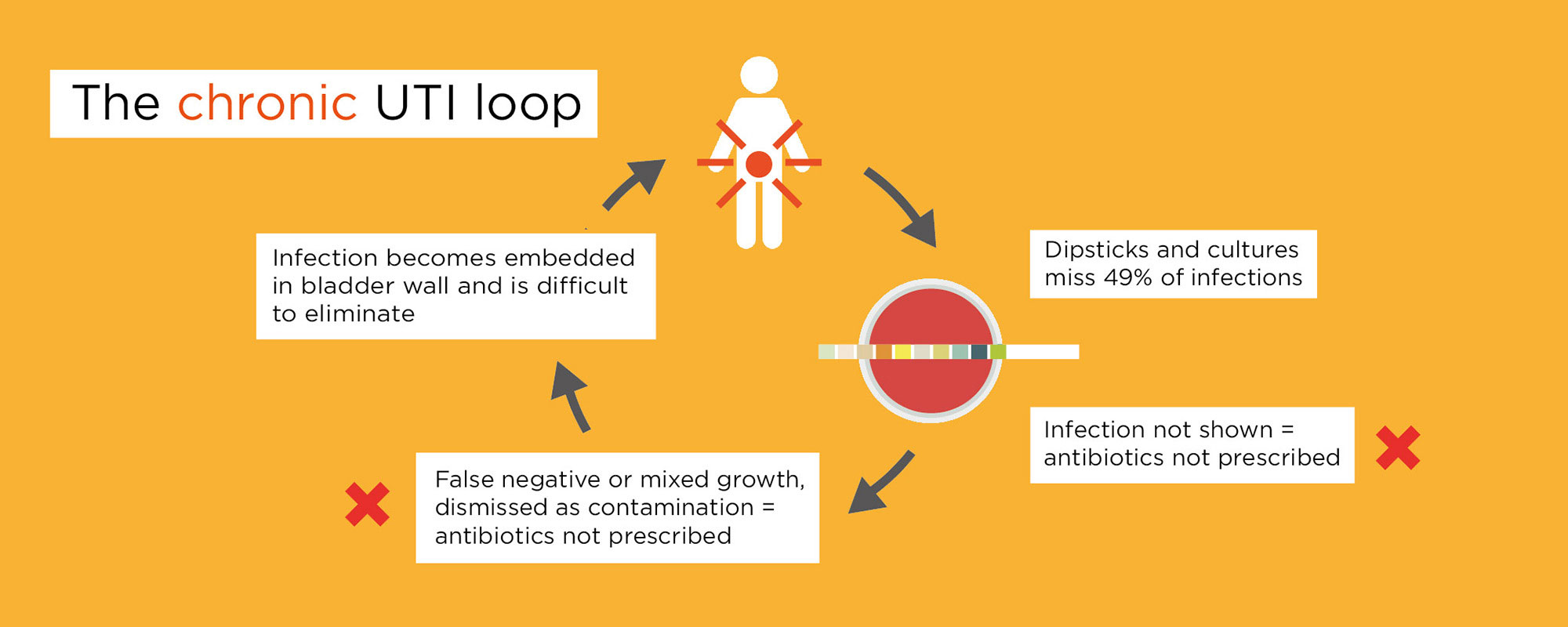 How do UTIs become chronic?
UTIs become chronic, or long-term, when bacteria in the urine move into the cells of the bladder wall where antibiotics and immune cells cannot easily reach them. They hide in the cells but are able to reinfect the urine so an infection can seem to go away – only to flare up again days, weeks or even months later. Over time, changes to the tissues in the bladder wall make the infection even harder to treat.
Some of the types of bacteria that cause UTIs have become resistant to the first-choice antibiotics that GPs routinely prescribe. As antibiotic resistance around the world increases, the number of antibiotic-resistant UTIs is likely to increase too and the problem of chronic UTI is likely to get worse.
Understand how a chronic UTI develops.
Challenging current tests which miss up to half of urinary tract infections
Dipstick tests and mid-stream urine cultures (MSUs) – the standard tests used to diagnose UTIs – miss about half of infections. The figure is likely to be even higher for chronic infections.
Why dipstick tests and MSUs fail to diagnose chronic UTI.
Unfortunately, thanks to the current treatment guidelines, doctors are more likely to rely on test results than on the symptoms their patients are describing and rule out infection as a cause.
What happens when a chronic UTI sufferer visits their GP
After tests come back negative and short courses of antibiotics don't appear to work, many chronic UTI sufferers go on to be diagnosed with interstitial cystitis, painful bladder syndrome, overactive bladder syndrome or urethral syndromes that can't be cured.
So what is the most accurate way to test for a UTI?
Pioneering research into chronic UTI has found that counting the number of white blood cells in fresh urine under a microscope using a haemocytometer (a device used to count the numbers of different types of cells in urine) is the most effective way to diagnose a UTI.
More about new chronic UTI research on Future Medicine.
Gaining recognition and proper treatment guidelines for chronic UTI
In the UK up to half a million people suffer from chronic urinary tract infections. But the National Institute for Health and Care Excellence, NICE, the body that produces treatment guidelines for England and Wales, has yet to produce guidelines for chronic UTI.
Current advice for diagnosing any kind of UTI insists on positive dipstick tests and urine cultures, which have been shown to miss half of infections. This contradicts guidelines from the Scottish Intercollegiate Guidelines Network (on which NICE has based its own advice) warning that these tests should not be given more weight than a patient's symptoms.
NICE does suggest that where UTI recurs (keeps coming back) longer, low-dose courses of antibiotics can be used, but only if dipstick tests and MSUs are positive. Low-dose (prophylactic) antibiotics can make the problem worse and this will not help chronic UTI sufferers whose tests are negative and whose infection is constant.
GPs need better guidelines on what to do when their patients return saying that they are still unwell.
Our chronic UTI information for GPs evidences the problems with testing and gives advice on how best to help patients.
"I am seeing increasing numbers of women (and some men) affected by chronic and recurrent UTI, both in my work as a GP, and in the Community Urology clinics. Many have had symptoms for several months or even years, and due to negative urine tests have often been assured that no infection is present. We desperately need to build consensus, and work towards a better evidence base, on how to recognise and treat recurrent / chronic UTI."
Dr Jon Rees, GP Tyntesfield Medical Group, North Somerset, and Chair of the Primary Care Urology Society
Challenging the diagnoses of interstitial cystitis, painful bladder syndrome and urethral syndrome
Many chronic UTI sufferers have been told they have interstitial cystitis (IC) or painful bladder syndrome (PBS) or urethral syndrome (US) and cannot be cured.
Patients' tests come back negative for bacteria and ultrasound scans and urodynamics testing cannot find anything physically 'wrong' with them. Cystoscopies (where a camera is inserted into the bladder) often find signs of inflammation on the bladder wall. Biopsies taken during the procedure can also miss infection.
IC, PBS and US are not proper diagnoses but merely 'diagnoses by exclusion' which means that no other cause has been discovered. The terms IC and PBS are often used interchangeably.
NHS Choices describes them as "poorly understood, incurable conditions".
You may see the term 'idiopathic' used about these syndromes. This simply means that doctors do not know why they happen.
Make effective treatment for chronic UTI available to all
Chronic UTI can be tackled successfully with long-term antibiotics, but this requires specialist care and even the experts admit that more research is needed into better treatment for sufferers.
CUTIC campaigns to support specialist clinics' pioneering research and treatment into this neglected area and the creation of a national network of clinics.
Treatment options for chronic urinary tract infection.
"Chronic and recurrent UTI are common conditions that profoundly affect a sufferers' health and wellbeing. Inaccurate diagnostic tests and inappropriate treatments result in many patients remaining undiagnosed, inadequately treated or even receiving an incorrect diagnosis. This is a travesty because if recognised, properly tested for and appropriately treated, patients can frequently have complete resolution of symptoms. I am delighted that CUTIC are highlighting this condition plus the plight of its sufferers and am keen to support them in their aims."
Mr Ased Ali, Consultant Urological Surgeon
What we are doing to bring about lasting change
Lobbying MPs and NICE (the body that produces treatment guidelines for England and Wales) to raise awareness about the failure of standard tests and to produce new treatment guidelines for chronic UTI in both adults and children
Raising the profile of chronic UTI through the media and breaking down the shame and embarrassment around this very common illness
Challenging the diagnoses of interstitial cystitis, painful bladder syndrome and urethral syndrome
Promoting research into specialist treatments for chronic UTI
Supporting the work of centres – in the UK and internationally – pioneering research into chronic UTI
Campaigning for a national system of specialist NHS treatment centres.
Find out more